***
The Summit has ended.
But…you can still access the wisdom & insight from our Featured Experts!
-> Upgrade to the Easy Access Pass for lifetime access to high-quality content and exclusive bonus material
This Pass will give you lifetime access to a treasure trove of audio presentations, transcripts, Q & A sessions and other actionable content from the featured experts of the Erotic Love Summit.
100% Money Back Guarantee. No questions asked – just an honest, sincere desire on our part to make you happy and give you incredible insights and knowledge for your life.
>> Grab your Summit Upgrade <<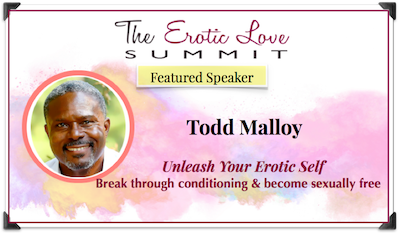 H
e's an authority on relationships and sexuality. He passionately believes in empowering others to live a life worth celebrating. He's Todd Malloy, the Clinical Director of the Inner Peace Counseling Center – and he's a Licensed Marriage and Family Therapist, as well as an AASECT Certified Sex Therapist.
In this thought-provoking interview, Todd and I talk about:
How true eroticism is freeing – socially, culturally, and emotionally.
The importance of personal self-inquiry for unleashing your authentic self.
Why becoming a great lover begins with self-awareness.
The interesting reason why premature ejaculation happens more often outside of committed relationships.
…And a whole lot more!
The perfect time to really connect with your erotic nature is now, so watch this video – you'll learn so much from it!
As an authority on relationships and sexuality, Todd Malloy has been providing counseling and therapy for over twenty years. Five years ago, he founded Inner Peace Counseling Center located in Charlotte, NC, USA, to create a safe space where emotional, sexual, and personal healing could occur. IPCC offers people a chance to maximize and celebrate their lives.
As clinical director of Inner Peace Counseling Center, he has established a haven where he can connect and partner with individuals and couples in times of emotional ebbs and flows, the crossroads of life, infidelity, rekindling intimacy, sexual skill development, and the many dimensions of sexuality. It is beyond counseling. It is empowering others to live a life worth celebrating.

Learn more by visiting www.innerpeacecounselingcenter.com. And to receive words of encouragement, blog posts, and opportunities to ask questions about your pressing questions, simply "Like" the Inner Peace Counseling Center Facebook page.