***
The Summit has ended.
But…you can still access the wisdom & insight from our Featured Experts!
-> Upgrade to the Easy Access Pass for lifetime access to high-quality content and exclusive bonus material
This Pass will give you lifetime access to a treasure trove of audio presentations, transcripts, Q & A sessions and other actionable content from the featured experts of the Erotic Love Summit.
100% Money Back Guarantee. No questions asked – just an honest, sincere desire on our part to make you happy and give you incredible insights and knowledge for your life.
>> Grab your Summit Upgrade <<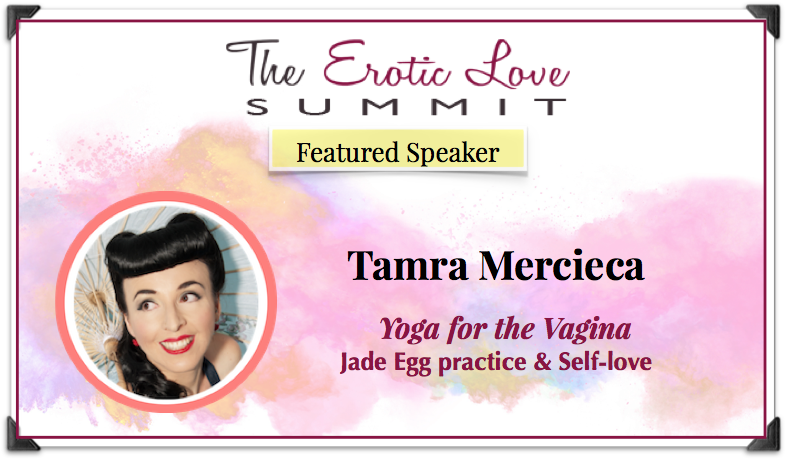 E
ver heard of a jade egg?
It's been around for thousands of years (used by royal concubines throughout history), and…it could be exactly what you need to experience fuller, more frequent, more powerful orgasms.
And that's exactly why Tamra Mercieca has made extensive use of jade eggs in her practice known as "Yoga for the Vagina."
Who is Tamra Mercieca?
Tamra works as a Relationship and Self-Love Therapist within her company Getting Naked. She has published two books and has been interviewed on HayHouse Radio, a raft of TV shows – and has also been featured in over a dozen mainstream magazines.

And in today's fascinating, eye-opening interview with Tamra, you will learn:
Why Tamra receives plenty of emails from women in their 60s who ecstatically report that they're having the best sex of their lives – because of jade egg exercises.

The remarkable benefits to your sex life when you've trained your vagina to "sip in" a jade egg – instead of pushing it inside you.

The sound physiological reasons why using jade eggs increase your likelihood of experiencing orgasms.

How jade eggs help women going through menopause (who often have vaginal dryness).
These are only a few of the insights Tamra shares with you in this video.
On top of all this great information, you're also getting a juicy free gift: the Yoga for the Vagina Starter's Sequence. This downloadable booklet, which you can grab for free here, is gorgeously illustrated and gives you a practical list of different vaginal exercises you can do yourself with your own jade egg – an effective way to heal, nourish, and strengthen your vagina.
Tamra Mercieca is the playful peach behind Getting Naked Pty Ltd where she teaches people like YOU how to strip off the layers of conditioning so you can fall in love with your most fabulous self! Tamra started working with clients as a Relationship and Self-Love Therapist after overcoming suicidal depression, healing herself of pre-cancerous cells in her cervix and moving through a raft of other life challenges, which all taught her the importance of developing relationship with self.

Tamra has published two books which have featured on shows such as Channel 10's The Circle and HayHouse Radio, she toured with Sexpo Australia for three years presenting talks on lots of juicy topics on multiple and full body orgasms, and has now created Yoga for the Vagina – a woman's practice for self-love and sexual healing. You can get your free Yoga for the Vagina Starter's Sequence at www.yogaforthevagina.com.