***
The Summit has ended.
But…you can still access the wisdom & insight from our Featured Experts!
-> Upgrade to the Easy Access Pass for lifetime access to high-quality content and exclusive bonus material
This Pass will give you lifetime access to a treasure trove of audio presentations, transcripts, Q & A sessions and other actionable content from the featured experts of the Erotic Love Summit.
100% Money Back Guarantee. No questions asked – just an honest, sincere desire on our part to make you happy and give you incredible insights and knowledge for your life.
>> Grab your Summit Upgrade <<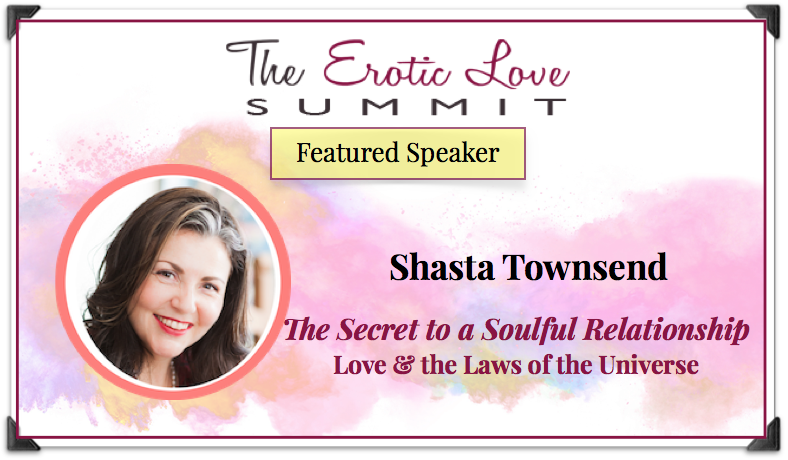 S
he did what many of us long to do: she created the marriage of her dreams. And now she's my featured presenter for today's interview, sharing her wisdom with those of you who yearn for a deeper connection and richer romantic experience with your partner.
Meet Shasta Townsend. Best-selling author, award winning teacher, and down-to-earth Canadian girl, Shasta is a "marriage mechanic" who helps you manifest your relationship dream by teaching you how to apply universal laws to create a rich and satisfying relationship – no matter what.
With a focus on creating practical day-to-day tools that can change your relationship for the better, Shasta joins me today to talk about:
What you can do to change what you are experiencing in a relationship.
Her own personal experiences with her husband that taught her how to make her own marriage thrive.
How to shift away from focusing on what you DON'T what – to focusing on what you do truly want in your relationship.
If you feel like your marriage is on the rocks – or if you just want to enhance an already great marriage – then this is the interview for you! (The things Shasta reveals work for any romantic relationship, of course – not just marriage)
You really don't want to miss this interview – and don't miss out on Shasta's free gift for you, either! You'll get a free "Breakthrough" coaching session that helps you get clear on the vision for your romantic relationship and love life. Check it out here – Shasta's work has garnered her some pretty awesome reviews which you'll want to read, too.
Shasta helps spiritual women tap into their heartfelt desires, understand Laws of the Universe, and use their own power of Being to magnetize, cultivate, and create a rich and satisfying relationship. Her #1 belief is that we have the POWER to create the reality we want, including the marriage we desire — and when we understand and use the Laws of the Universe, we create the life we want with ease.
Learn more about Shasta by visiting www.shastatownsend.com.