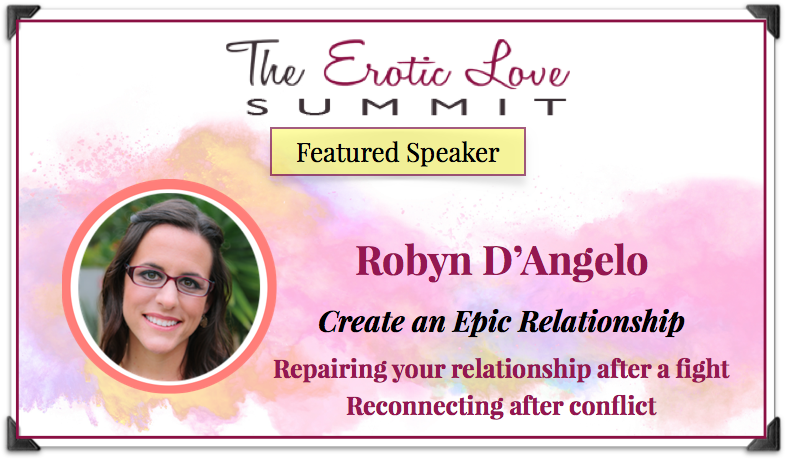 R
obyn D'Angelo, LMFT, is a rogue therapist turned relationship coach and the founder of The Happy Couple Expert. She helps frustrated and disconnected couples and singles learn to love and be loved.
In this video, you'll learn some of her top techniques and ideas for managing conflicts in relationships. For example, you'll discover:
Why the goal of a healthy romantic relationship is NOT to fight less (contrary to what you may have heard).
How to validate your partner's feelings with one simple phrase – and why it matters.
What to do when your attempts to repair a fight are rejected.
Why stonewalling re-wires your partner's behavior in a way that can destroy your relationship.
…and plenty more!
Oh, and you're going to love Robyn's free gift for you: it's a handy "Relationship Repair Kit" that contains powerful, effective phrases you can use to repair and re-connect during or after an argument with your partner. Grab your free copy here.
Robyn D'Angelo helps frustrated and disconnected couples and singles learn to love and be loved. She walks them through how to talk to and feel heard by one another while connecting deeply and creating space for fun. She helps couples master the messiness of couplehood together and create their own Epic relationships that last. She's a true #LoveGeek. And when she's not tossing love and kindness around like confetti, she's helping anxious people learn to make anxiety their superpower.

Learn more about Robyn by visiting www.TheHappyCoupleExpert.com.
***
The Summit has ended.
But…you can still access the wisdom & insight from our Featured Experts!
-> Upgrade to the Easy Access Pass for lifetime access to high-quality content and exclusive bonus material
This Pass will give you lifetime access to a treasure trove of audio presentations, transcripts, Q & A sessions and other actionable content from the featured experts of the Erotic Love Summit.
100% Money Back Guarantee. No questions asked – just an honest, sincere desire on our part to make you happy and give you incredible insights and knowledge for your life.
>> Grab your Summit Upgrade <<