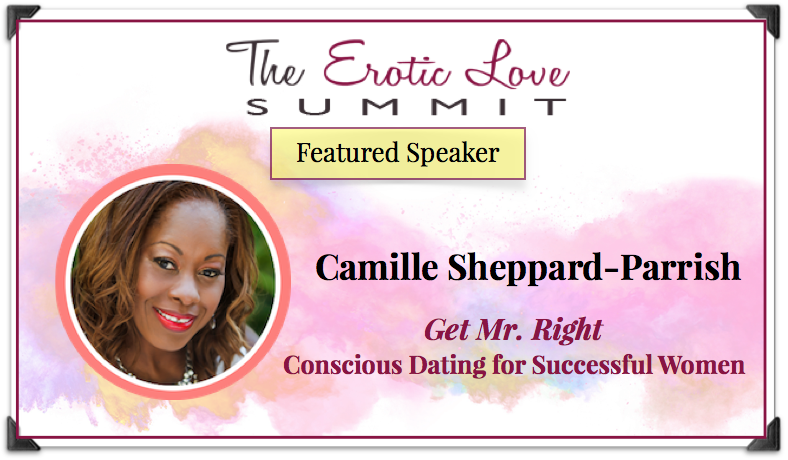 L
et's talk about the kind of men you want to attract in your life. Are you a bit worried that maybe, just maybe, you'll never find a man who truly aligns with your core values – and who can give you the healthy love that you so definitely deserve?
Here to clear away your love worries: Camille Sheppard-Parrish – a healthy love coach, relationship, and dating expert and author of Successful Women Date Differently: Secrets to Attracting the Love You Deserve. A certified coach, Camille helps women break free from their past trauma, drama, fears, and the lack of self-love that prevents many women from living an amazing life and effortlessly attracting, dating, and marrying the type of high-quality man they want and deserve.
And in today's interview, Camille discusses what she calls "love blocks" – obstacles to finding healthy love that often stem from early childhood experiences. By identifying these "love blocks," you can then eliminate them and find yourself in a better position to get Mr. Right (or, as Camille puts it, "get your mind right and get your man!"!
You'll love this interview, I'm sure, because Camille goes deep into the specific mindset and approaches that's needed for you to discover and attract Mr. Right for your own life. And even if you're married – or in a long-term relationship – you'll find this video incredibly helpful in re-framing the way you think about love and relationships.
Get your mind right, and get your man! ~ Camille Sheppard-Parrish

Time for your free gift! Today you're getting Camille's great Love Rejuvenation 7 Day Challenge. This challenge and mini-course is all about tapping into who you really are – so that you become the woman you truly want to be. You'll learn how to "unbreak" your heart, and lots more, so get your free gift here.
Camille's mission help you live a healthier and fulfilling life by providing you with insight and tools that you can immediately use to increase your self-love, boost your confidence and create the orgasmic life, full of passion and love that you deserve. You deserve a happy life filled with healthy love from your Mr. Right.
Camille is the CEO of the Get Mr. Right University and developed her signature 12-month Mastermind Program based on her Irresistible blueprint for DATING DIFFERENTLY and Conscious Level Attraction System to help women understand why they are so brilliant, beautiful, successful and even super sexy… But STILL SINGLE!
Camille has earned her MBA and is currently conducting research for her dissertation in Organization and Management, Leadership for her PhD. You can learn more about her by visiting www.CamilleSheppard.com.
The Summit has ended.
But…you can still access the wisdom & insight from our Featured Experts!
-> Upgrade to the Easy Access Pass for lifetime access to high-quality content and exclusive bonus material
This Pass will give you lifetime access to a treasure trove of audio presentations, transcripts, Q & A sessions and other actionable content from the featured experts of the Erotic Love Summit.
100% Money Back Guarantee. No questions asked – just an honest, sincere desire on our part to make you happy and give you incredible insights and knowledge for your life.
>> Grab your Summit Upgrade <<